Growing Greener

Conservation by Design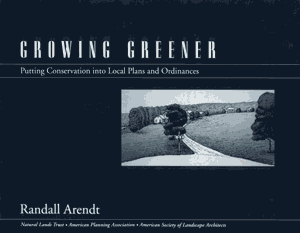 Growing Greener is an illustrated workbook that presents a new look at designing subdivisions while preserving green space and creating open space networks. It shows readers how to design residential developments that maximize conservation without reducing overall building density, thus avoiding the political and legal problems associated with "down-zoning".

It offers a three-pronged strategy for shaping growth around a community's natural and cultural features, demonstrating ways of establishing or modifying the municipal comprehensive plan, zoning ordinance, and subdivision ordinance to provide a strong conservation focus, Open space protection becomes the central organizing principle for new residential development, and the open space that is preserved is laid out to form an interconnected system of protected lands running across the community.

Growing Greener builds upon and expands the basic ideas presented in Conservation Design for Subdivisions, broadening the scope to include more detailed sections on the comprehensive planning process and specific information on how zoning ordinances can be updated to incorporate the concept of conservation design.
Growing Greener includes eleven case studies of actual conservation developments in nine states, and two exercises suitable for group participation. Case studies include: Ringfield, Chadds Ford Township, PA; The Fields at St. Croix, City of Lake Elmo, MN; Prairie Crossing, Grayslake, IL; The Meadows at Dolly Gordon Brook, York, ME; Farmcolony, Stannardsville, VA; The Ranch at Roaring Fork, Carbondale, CO, The Ponds at Woodward, Kennett Township, PA, et al.

It is the first practical publication to explain in detail how resource-conserving development techniques can be put into practice by municipal officials, residential developers, and site designers, and it offers a simple and straightforward approach to balancing opportunities for developers and conservationists.

Special Features

Ordering Information
To order copies of this book, please consult the following link to the Island Press website: islandpress.org/randall-g-arendt
Or the following link to the website of the American Planning Association: www.planning.org/store/product/?ProductCode=BOOK_RGGR